Recently Played
Paul Carter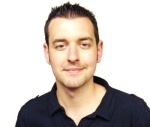 Paul gets you through the workday every weekday morning from 10am.
You'll want him to be your best friend - he sends Penny from the Street Team out to a different workplace every day with a supply for yummy, jammy donuts! Sign up now for your Donut Run.
He's also got stacks of tunes to get you through the day, including 40 minutes of Number 1s At One.
Paul's lived in Norfolk and Suffolk for the past 30 years - and although he's originally from Kent, Paul now enjoys living with his family in Beccles.
Outside of work, he enjoys family life with his wife and young children Jamie, Daniel and Gemma. He keeps busy clocking up the miles of an evening out cycling, and shows off his cooking skills at least once a week at home with help from Jamie Oliver's latest cooking book!
Paul's perfect weekend would include having paddle on Gorleston beach, or taking a family stroll along Great Yarmouth seafront.